Written by @pramodk73, 6 months ago
🏔️ Narayanagiri Betta Bike Ride
I hit roads after a long gap! Stopped biking recently in the favor of work, side hustle, Devi, Bhuvi so that I spend time this side for time being. Nonetheless, I am human, I would like to have fun and spend some peaceful time with nature. So, had decided to go on a bike ride for a day, yeah, I usually do multi day trips 😜. Teamed up with Shashank, Sameer, Arvind, and Kartik this time. They match the same wave length as me, so could not be more comfortable.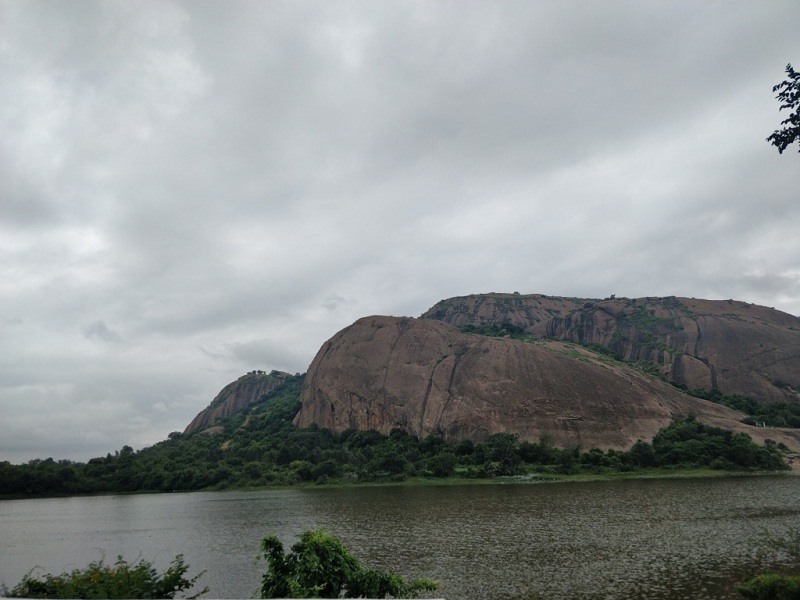 We stopped at the first option for the destination ie. Narayanagiri Betta. It is towards south of Bangalore and beyond Bidadi - https://goo.gl/maps/EYPsQMXKRCbUCgCF8 It was pretty decent in terms of views on online. We anyways wanted a decent ride more than the destination. We understood that there is a little off roading needs to be done towards start of the hill and we were okay with it. We wanted to be there for sunrise, so we decided to start the trip at 4.30am from the office location as the meet up point.
Sameer has got the bike recently and has not explored the roads much yet (at least as far as I know). Myself and Shashank have done quite enough biking, the routine was normal for us even though I am out of it for a long time and him being veteran in biking. Sameer was expecting to reach the destination in one hour considering that it is just about 70kms and early morning empty roads but we both know how all the plan can go for a toss 😂 We were pulling his leg for being noob in biking. Bad on us, agreed!
Arvind wanted to [[Loki]] also to join the trip but I know how it goes! I have told him that he is not going to wake up any time before 8am no matter what! I told Arvind that I will pick him up if he wakes up himself without me not even knocking the door.
👟 Start
Had setup alarm night while doing regular daily late night walking with Devi. Woke up as per plan, got brushed, dressed up, buckled up the shoes, rechecked if Loki is awake. Pin drop silence from him room, so, just took the bike keys and left the home. Wanted to update the crew that I am starting, expecting I will be the first person to reach. Unfortunately ;) Sameer had already reached the meeting point. I reached in next 10 minutes.
Sameer was in his regular office attire. I told him to get a good gear, shoes, clothes to get into the zone of bike riding later into the trip. Shashank and others reached the meet up point in next 10 minutes. We wanted to have tea or coffee before starting but looking at the empty roads we decided to have fun riding first ;) and have it later in the ride. Kartik joined me on the bike as we were 5 people and 3 bikes, Arvind joined Shashank. We decided no one joins Sameer because we did not want to do the injustice to the bike R15 ;) and wanted to reserve the seat for his future girlfriend.
🛣️ The road
Got my fuel tank half filled before we hit the amazing Bangalore to Mysore Express way. This was my first time being on this newly built express way, fortunately on bike. I don't think I have traveled Bangalore to Mysore on bike after getting my Car. I have heard stories about this new road and excited to be on bike on this road. As usual, Shashank was the navigator for us. He has good gear, better bike than us (yeah, better than R15), far better equipment, and more than anything else, he has better experience!
As expected the road was super clean, almost no distractions, absolutely no deroutes, no pot holes and lot of cars. It was around 5am when we entered this express way. The lighting was very mild, creamy and blurry white. I just missed that experience for a long long time. Inside I was super happy for being on the trip again!
Without any delay, my right hand wrist was at 90 degrees and there was no more throttle left. My helmet was so shit that the chin area of the helmet was blocking my eye sight as it was unable to stick to the skin because of the speedy wind. I made sure to adjust my posture, bend slightly so that the wind pushes the helmet down instead of upside. As expected, the other two guys were ahead of me, rightfully so because they have better bikes 😜. There were groups of other bikers. All my earlier trips to Coorg, Ooty, Wayanad, Araku were just flashing through my memory. I lived the moment.
🏘️ The trail
After 40mins or so, we took de-route to entered the service road which ultimately leads to the trail into the village where the off roading starts. The village trail has very decent corners. What is it if it is a bike ride without cornering? Right 500mts before the off roading starts, there was a very beautiful pond welcoming us. There were few other bikers had already reached and taking photos. It was 6am in the morning.
We got off the bikes for some time and took photos. The landscape was amazing. The hill that we were about to climb was covering the view with the pond being at the feet of it. The smog was hiding the tip of the hill making it the beautiful image to capture, so I did. There were lot of cranes flying which we tried to capture on mobiles but they were too far away to capture from mobile phones.
⛰️ Off roading
We got back on bike again and quickly stopped a the T join where we had to take right and climb the steep with bikes. Had it been just steep, it would have been fine, but the path was full of gravels that it just scared us by the looks itself. My bike was fine as it is multipurpose but Sameer's R15 is absolutely not meant for this kind of roads and besides it is pretty new and first bike for him! On the other hand, Shashank's Royal Enfield is pretty heavy bike which weighs about 200kgs. It is hard for these two bikes to control on such a path! I am not saying it was easy for me and my bike but comparatively, manageable.
Before ascending much we thought it is too hard and we park at the bottom of the hill and climb it by walk but what is the fun in it? We decided to take the risk and ride it off. Both Arvind and Kartik got off the bikes and made sure that we three don't fall off. Most of the trail was fine but in the other parts the gravels made it so hard. After a lot of struggle we reached the point where we had to actually park the bikes and take foot steps to reach the peak of the hill.
There were few bikes already parked at the place. There was another R15 parked too. He was consoled by seeing another R15 😂. Surprisingly, there was a car parked too! We had no clue how car had reached that point but then understood the power Suziki Alto.
☁️ The peak
We started taking the steps to climb up the hill. We had to take multiple breaks as there were so steep at places. I remember some random discussion where someone (or me?) pointed that I am the oldest guy in the crew 🫠. The sight of the couple sitting at the verge of of the cliff welcomed us. We could feel the passing fog, not so chilled though. Me and Shashank were fighting if the fog movement is the only reason for the other side being seen as foggy. My argument was that you don't feel as much fog when you are inside it as you are away from it. His point is, that the fog actually moves and you still feel the same level of fog even when you are inside it. Maybe some other write up for it ;)
There were so many pits on the hill where the water has accumulated, very greenish with lot of frogs in it. The sound of water splashing because frogs keeping jumping here and there was added beauty to the place. We quickly went to the temple that was there on top just to figure out that it is closed. I took off the shoe, went back of the temple and just laid down watching the sky and clouds, as usual. Quickly, everyone followed me, there was absolutely no one to disturb us and spoil the mood.
We started discussion all random memories from our college days, I narrated all cringe incidents that I did from my college days. Not sure if I stop doing this till I die. Oh, there I said it. People tease me because I use that phrase a lot. I would say, it was most peaceful time I spent on a bike ride. All except me and Shashank went to the other side of hill to take photos. These Insta people 😒.
Me and Shashank started discussing about the the 2000s and early 2010s pop western music. Coincidentally, we have common taste in terms of music too. We discussed about the work of Selena Gomez, Justin Beber, Akon, Taylor Swift and so many. He was confessing how good the music was back then. Both in terms of the meaning and the music. We went on discussing about their early life style, the hurdles they faced in their teens, how they are trying to come back now, uff, a topic which I love talking. He had started time lapse on his Go Pro which he had to stop and move on.
We left the place and went to the cliff where the couple was having fun. They had left by then. It was 8am by then. Sun had already started peeking through the clouds. We had to come away as the sun light, even though not a lot, was hitting our eyes sharply.
It was absolute edge of the hill there. There was a human constructed, only stone wall on which the plants stated conquering. There was absolute silence. The pond that welcomed us was right there beneath our feet now. The road trails were looking like lines on canvas. The dense green almost all the place, the scattered houses and villages hiding in the dense green, and the roads connecting the dots, the absolute blurred spot where the land meets the sky, it was a scene where everyone wants to be. We started discussing about the time lines of the existence, how these hills are formed, how they are broken into the pieces, etc. I was saying it would have taken a good 10s of thousands of years for the giant rock to have broken into pieces that were sitting on. Not sure if I am correct but my gut (with the knowledge I have) says it could be. We just take everything for granted without giving a second thought.
🚦The end
Until it becomes too sunny, we started descending the hill. On the way back, we stopped at a small hotel. Nope, not what you might think, hotels are small stores where you can have food. We had Thatte Idli. Leter we stopped at Bidadi to have a proper breakfast. We had amazing Vada, Thatte Idli, Dosa before we finally start driving back to the city.
I have done very few bike rides from Bangalore. Driving from one of the city to another is the perfect thing to destroy the amazing prior experience. It just drained the entire energy of every one of us. So much of traffic, so many signals. I would say it was still not the worst of traffic I have seen. It is hard to be together in traffic, so we got divided the moment we entered the city. My hands were having cramps holding the clutch and throttle. I reached the same meeting point, got Kartik back to his PG. We reconnected on phone and decided to disperse for the day. As I said, everyone was so tired that they wanted to go back to their homes and take rest.
I came back thinking I will take bath and go to sleep for some time, but, the moment I reached bed, I got up only after 3 hours. That speaks of the Bangalore traffic. Hope I do these trips regularly from now on! Cheers :)